7 Best Free Online eSports Games to Play in 2024 to Make $$$

By

Remi Smith

Edited by

Petar Milenkovic
Updated November 16, 2023.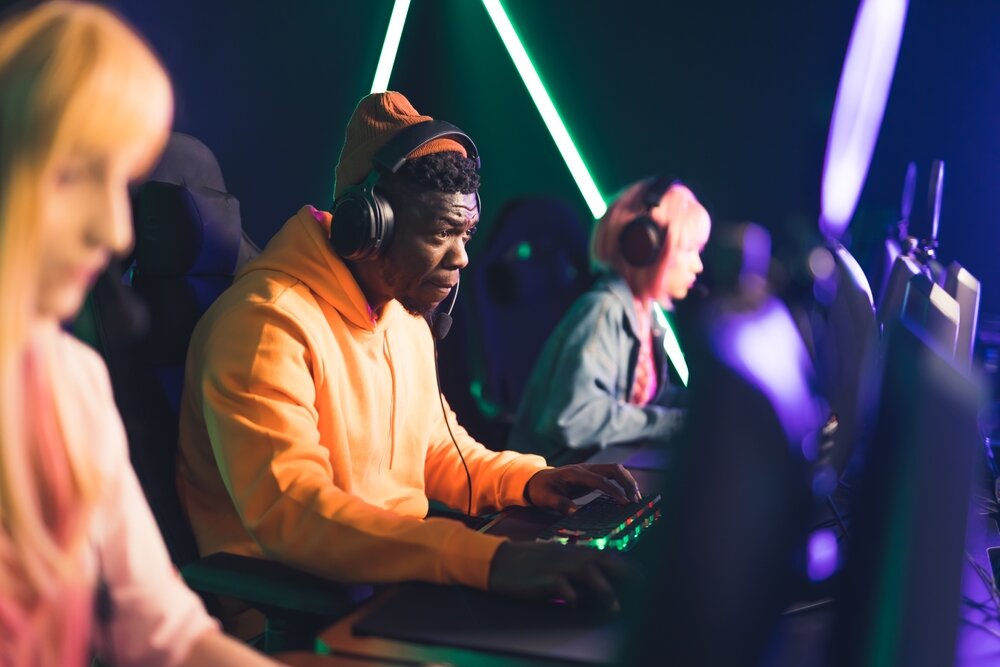 The gaming industry is colossal. So big that, in 2022, it accrued more revenue than the film, music, and book publishing industries combined—and eSports makes up a huge portion of this industry. In 2018, Epic Games stated that more than $100 million was allocated for the Fortnite competitive scene for that year alone.
eSports has now become a great opportunity for elite gamers to turn passion into careers in the gaming world. As such, here are the best free-to-play titles in the eSports scene that you can make money from without having to spend money on.
Beware , All That Glitters Is Not Gold
Before we move on to our list, I felt the need to give a short disclaimer, from personal experience. Becoming a professional eSports gamer is hard. It requires years of hard work, sacrifices, and long hours of grinding. Even when you're signed up by a team, it's not the same as playing for fun. It's a job that requires repetitive plays, strategy review, and skill mastery, which can be tedious.
Luckily, there are ways to earn rewards, equipment, and in-game currency without dedicating your entire life to a game. Loyalty programs such as Buff offer free rewards for playing your favorite game. Simply play while Buff runs in the background, earn points, and redeem for in-game items, currency, or real-life equipment. Best part, it's legit and hassle-free.
Buff - Level up Everywhere
Best Competitive Games in 2023 for Making $$$
With that being said, we have selected games according to their popularity and the size of their prize pools. With enough patience, luck and skill, you can become a successful eSports athlete and earn some sweet cash through your career.
1. Apex Legends
Available on Steam (PC), Origin (PC), PS, Xbox, and Switch
Apex Legends is the most competitive FPS Battle Royale out at the moment. If you're not familiar with the genre, it's where dozens, or sometimes hundreds of teams or solo players are put into a shrinking arena with limited equipment and have to eliminate their opponents until they're the last ones standing. Apex is arguably the best-rated Royale to play at the moment, even earning a spot on the top eSports titles for PC in 2022.
Respawn's remodeled Source engine allows Apex Legends to be an extremely fast-paced shooter with great mobility and gunplay, which invites some absolutely insane moments of gameplay making the competitive scene an extremely exciting experience to be a part of. The Apex Legends Global Series in 2022 has a prize pool of $2 million, but whether you're competing in the big leagues or just regional tourneys, Apex's eSports scene is worth being a part of.
» Learn more about Apex Legends and how to get more Legend Tokens
2. Counter-Strike: Global Offensive
Available on Steam (PC)
Counterstrike is among the OG's of competitive shooters in the eSports scene. It's a round-based team shooter where a team will have to try and plant a bomb on an objective area in the map, and the opposing team has to prevent that from happening or try to defuse the bomb before the round ends. The first title was made back in 2000 by Valve, the creators of Half Life, and has been growing in popularity as a competitive shooter since then.
In 2021, the accumulative prize money from all the eSports tournaments was more than a whopping $21 million! The game's popularity is still high after all this time, so getting involved in the competitive scene can be rewarding. Many eSports CS:GO tournaments happen regionally, so you might just find a local tournament that could be worth joining.
CS:GO pros and content creators are usually common candidates for sponsorships, so even if you're not winning parts of the prize pool, you could still be raking in a bit of cash by standing out with a cool sponsor.
» Learn more about CS:GO and how to trade and sell skins on the CS:GO skin exchange
3. Dota 2
Available on Steam (PC)
Dota 2 is a MOBA (Multiplayer Online Battle Arena), a strategy game where two teams of 5 players are pitted against each other with the goal of destroying the opponent's base. Each player controls a unique character from a selection of over 120, each with their own abilities and passive traits. The game's competitive scene is among the largest titles in the eSports world, with the total prize money for 2021 for Dota2 boasting a mouthwatering $40 million!
Dota 2's audience is also huge, and the way the game is built allows tournaments to happen all the time, all around the world! Participating in a Dota 2 championship is an awesome experience whether you're playing or just spectating.
4. Fortnite
Available on Epic Games (PC), Xbox, PS, iOS, macOS, and GeForce Now
Fortnite is a third-person shooter game that released in 2017 and blew up almost instantly. Its competitive scene features a Battle Royale that works similarly to Apex Legends.
Fortnite thrives in the eSports scene, with top players walking home happy with a huge $3 million in global tournaments. If you're feeling up to joining Fortnite tournaments, Epic games has made getting started really easy! Just head over to the official Epic Games site and check out their competitive page.
5. League of Legends
Available on RIOT Games (PC)
League of Legends was inspired by the original Dota and features great graphics and visuals. It's also a bit faster than DotA, with a little less depth. League of Legends features in the top eSports list, with the worlds series in 2021 having a prize pool of $2 million.
Watching League of Legends tournaments is always exciting and an amazing experience if you're lucky enough to be at a live game. LOL's competitive games are best streamed over on lolesports.com, where you can also earn some awesome loot with stream drops!
» Learn more about League of Legends
6. Rocket League
Available on Epic Games (PC), Steam (PC), Xbox, PS, Linux, macOS, and GeForce Now
There's no game out there similar to Rocket League. Putting it bluntly, it's soccer with rocket-powered control cars that can jump and use boosters to fly around in the air, and even though the raw mechanics of Rocket League have never changed, players are still finding amazing new ways to move around and manipulate the ball at their will.
Rocket League is my personal favorite eSports title to watch, the finesse that the pros have is breathtaking once you know how difficult the game is to play. There are quite a few Rocket League tournaments for money, but look out for The Rocket League world championship this year in 2022, as it'll feature teams from all around the globe competing for a huge $6 million prize pool and massive sponsorship deals
» Learn more about Rocket League
7. VALORANT
Available on RIOT Games (PC)
VALORANT is RIOT's approach to an FPS title after so much success on their MOBA: League of Legends. VALORANT is largely inspired by CS:GO and works much the same way from buying weapons at the beginning of each round to planting bombs on objectives. Where VALORANT stands out from its CS inspiration is its list of unique agents. There are currently 8 agents in the game, each with 4 unique abilities, one of which is an ultimate usually capable of turning the tides of a round if used well enough.
The competitive scene for VALORANT took off almost instantly, thanks to RIOT Games' huge success with League of Legends. In the 2 years that VALORANT has been out, its already rewarded $14 million worth of prize money to players around the world. As RIOT's FPS grows in popularity, so do its opportunities in the eSports scene.
Get Started and Earn More Along the Way
Getting to the top admittedly won't be a walk in the park, but whether it's winning huge sums from eSports competitive tournaments or getting sponsored by brands, it's worth getting involved in the eSports scene. However, if you're not feeling up for the big leagues, you can also earn some passive rewards gaming with Buff!