5 Legitimate Ways to Make Real Money From Playing Games

By

Remi Smith
Reviewed by

Joel Taylor
Fact-check by

Saguy Aizen
Updated July 25, 2023.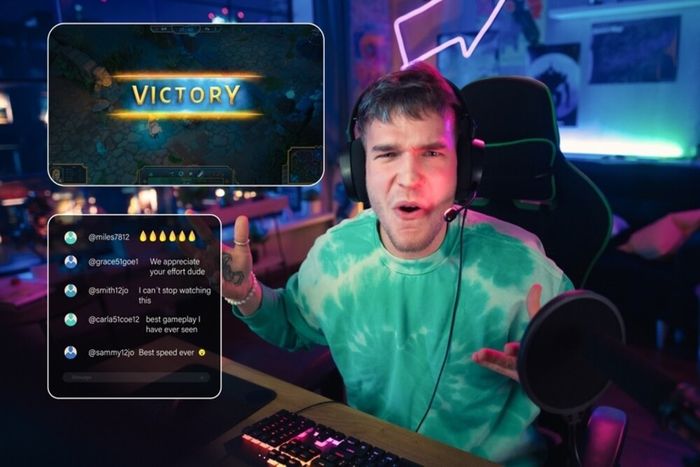 If artists and musicians can get paid for doing what they are passionate about, why not gamers too? As the gaming industry continues to grow, it's becoming very possible to do just that: make real money from playing games!
If you're thinking of getting serious about this, we've made a list of some of the legitimate ways people have made real money from the gaming world so that you can turn your favorite hobby into an income.
1. Stream Your Gameplay on Twitch/YouTube
One of the most popular ways to make money by playing games online is to stream your content using Twitch or YouTube, and starting up is pretty easy! Both sights have a well-written startup guide to get the ball rolling (Twitch or YouTube), but you'll need more than a fresh account to start making some real income.
Here are 3 big tips that we've learned that make a YouTube or Twitch steam more successful:
Tip #1: Find a Unique Way to Present Content
Let's be honest, there are already thousands of gamers streaming COD, Battlefield, LoL, and all the other games we love playing. In such a saturated market, we have to find something unique that makes people click on our streams and stay there. There are many ways to do this, but unfortunately, no one can tell you what your unique feature should be.
For example, some people are naturally funny and have comedic themes in their streams, some put on personas like Dr. Disrespect, an overly aggressive role-playing gamer, and some streamers are just absolute pros that are too good to even need personalities.
Tip #2: Make a Schedule
So here's a scenario: you've had a bunch of viewers that stumbled across your stream, liked your content enough to follow your channel (great!), but they have no idea when your next stream is going to happen, so they accidentally miss it.
That sucks for both you and your viewers, so it's important to have a schedule to let your viewers know that you—hypothetically—stream every Friday at 19:00. Post the schedule to your homepage so that everyone knows what to expect.
Tip #3: Consistency Is Key
We've seen streamers that have put hundreds of hours into their streams without much success, just because they never made their "recipe" work for them. If you're playing games in one stream, then doing artwork in the next, then your gaming viewers might not be interested in your art stream, and vice versa. Make sure that your viewers know what they're up for when they hop into your next stream.
If you enjoy doing a variety of different streams, consider separating them into different days or times, such as art on Tuesdays and games on Thursdays and Fridays.
2.

Join a Platform That Rewards You for Playing


Did you know you can earn free rewards by playing the games you're already playing? I know, sounds too good to be true, right? However, there are free platforms out there like Buff that reward you simply for playing the games you already play! Playing earns Buff Points that you can spend on real-world items like PC peripherals and gift cards. Additionally, Buff gives you weekly and daily challenges you can complete to earn those points, and it's completely legit.
You might be thinking "well what does Buff get out of it?"
Buff primarily receives revenue from ads and premium subscriptions to the service, so you aren't impacted at all.
» Ready for some free rewards? Get Buff now!
3. Create Video Game Tutorials & Guides
We've all had that moment before when we think "man, I wish I knew that earlier," or "why isn't this common knowledge?" If you feel like you could teach a few tips and tricks to people on the game you've been playing, making tutorials or guides is a good way to help those people out and make some money doing it!
YouTube is an extremely popular platform to post tutorials and guides onto, and getting an account started there is fairly simple. The trick is learning to efficiently record your content—we recommend free software like OBS for this—and editing your footage in a way that makes it entertaining for the duration of your tutorial.
After enough people subscribe and watch your videos, you will be able to monetize your channel and start earning passive income from all your videos, new and old.
4. Compete in eSports Tournaments
If you've found yourself feeling like you've mastered your game—like you're always carrying your team and could compete with anyone—then maybe it's time to try and sign up for a professional eSports team.
The eSports scene is huge, and growing bigger every year, so the search for the best players in the competitive titles means that there's an ever-growing opportunity to sign up and compete in major tournaments for huge prize money. You'll be up against the best of the best here, so get ready to sweat for those rewards.
Some eSports organizations create teams in multiple games, while others are limited to one game. Finding one to join will be different for each game, so you'll have to do some research about how different eSports organizations recruit their players.
» Want to become an eSports pro? Take a look at the games with the biggest eSports prize pools.
5. Establish a Video Game Coaching Business
So you've mastered your game, but you don't want the stress of eSports publicity, or maybe you're feeling too old to compete (the average peak age for eSports players is 19-22) or maybe you just want to get paid to help people improve, then consider becoming a coach and privately train players to gain a competitive advantage.
The easiest way to get started with coaching is to sign up for a coaching platform, such as GamerSensei, Pro Guides, or freelance platforms like Fiverr.
Start Earning Now
Turning your gaming hobby into an income has never been more possible than it is today. Not only do each of the methods above provide viable ways to make some money, but you can also do all of them at the same to maximize your earning potential. The only thing holding you back is the amount of time and effort you put into making this a reality, so you better start soon!