Fall Guys: Ultimate Knockout—Get the Crown & Earn Buffs Too!

By

Remi Smith
Reviewed by

Joel Taylor
Updated July 25, 2023.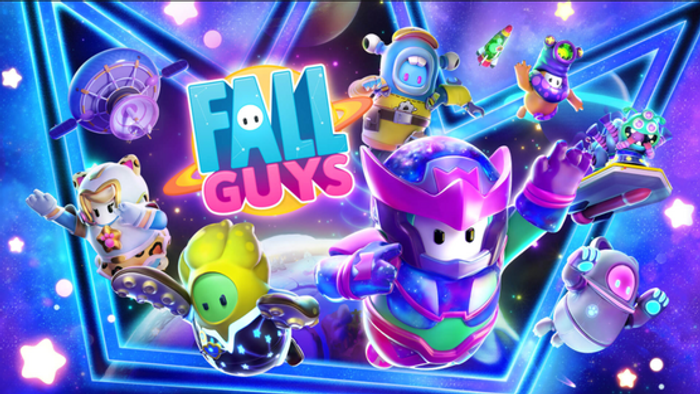 This family-friendly game is a bright splash of color in the gaming world—a beautiful take on the trending Battle Royale-style games. This game brings controller-clutching gameplay that will have you leaning frantically all over your seat, and brings screams of joy, relief, and occasional frustration to the room. Mediatonic brings back the thrilling memories of a TV favorite, Wipe Out, and blends it with the nail-biting sense of excitement and suspense from the elimination show, Squid Games.
With loads of consistent map additions, and limited themed cosmetics, Fall Guys is always exciting, especially if you own the battle pass. And now you can earn extra Buff Points while you're having fun! Keep reading to learn more.
» Looking to use those Buffs for prizes? Discover all there is to know about Buff Points
What Is Fall Guys: Ultimate Knockout All About?
Mediatonic, a British video game developer with Epic Games as a parent company, started releasing games in 2009, but really only took off with the release of Fall Guys in 2020. This was quickly followed by a massive popularity boost when Epic Games acquired Tonic Games Group, the company that owns Mediatonic. Fall Guys is now available to play for free on Windows PCs, PlayStation, Xbox, and Nintendo Switch consoles with full cross-platform support!
How to Play
You'll start each round in a brightly colored map as a customizable bean character, where you're pitted against other players in an elimination-style set of arenas. Whether it's winning races, competing in teams, lasting in survival rounds, or fighting it out in sudden death, your goal in Fall Guys is to be the last bean standing. Doing so will earn you crowns to show off your wins.
Fall Guys has a few rotating game modes, which feature team games, private lobbies, solo knockouts, and fun limited-time themed game modes that rotate within every season! At the time of writing, there have been 2 seasons each featuring amazing battle passes with awesome skins, items, and XP boosts!
You might be dodging giant fruits and swinging hammers or trying to stay afloat on layers of disappearing platforms. There will be slippery pink goo to maneuver over and giant spinning fans threatening to yeet you across the map and back to the start. With all this considered, it's almost guaranteed you will be kept on your toes every round.
Why We Love the Game
Aside from its whimsical environments and challenging rounds, at its core, it's a game that lets friends and family play together across loads of platforms while meeting new friends around the world. On top of its ever-growing vibrant community, Buff has been excited to recently have brought Fall Guys into its library, only further enhancing the amazing experience that Fall Guys players have, by letting gamers get passive rewards just by playing the Ultimate Knockout online with your friends.
Is it a silly game? Absolutely. But that's why it's so endearing.
So, How Will It Work?
Since Buff integrated with Fall Guys this year in 2022, it's never been easier to earn real-life rewards by playing this brightly colored title with your mates online. It's quite simple: Buff uses a stat tracking program called Overwolf to let them see your in-game progress and assign you challenges to earn the in-app currency, Buff Points.
Buff works on PC and mobile and works with a freemium business model, allowing players to get higher tier paid-for subscriptions and watch optional adverts, letting Buff make some sweet rewards available to loyal gamers with no extra effort required.
» Want to learn more about Buff? Read our guide to how Buff works
Download Buff
Getting started is super easy. Just head on over to the download page and hit download.
Installing Buff will also automatically install Overwolf, the trusted Buff partner that allows the app to run on your PC so you can start earning rewards immediately.
Earn Buffs While Playing Fall Guys
As you're finishing matches and challenges you'll be earning Buff Points. you can also earn these points in fun-to-complete daily and weekly challenges, wheel spins, watching ads, and subscribing to premium tiers of the app. The more you play your favorite Buff-supported games, the more Buff Points you'll earn!
Cash Out on Your Rewards
After you've gathered enough Buff Points playing games over time, you'll be ready to redeem a sweet reward over in the Buff Marketplace. These rewards include gift cards to shops like Amazon, Apple, GameStop, Walmart, Google, and most gaming platforms, as well as gaming peripherals, in-game currencies, CD keys for full game titles, and even being able to donate your Buff points to planting trees and saving sea turtles around the world.
What Are You Waiting For?
So, if you're up for some family-friendly fun in the world's most colorful party royale, just hop onto your favorite gaming platform and download the game for free now! Double up the rewarding feeling of crossing those finish lines with some extra rewards by playing on PC with Buff.
» Get started: Download Buff